About
So this one time I was an extra in Struck By Lightning, the story of which is in my "About Me" :D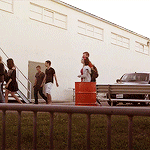 That's me in the hot pink tank and the gray hoodie. Thanks for the gif struckbychris! I also met Darren after his Silver Spring Listen Up! show and he called me fabulous and I internally squealed (maybe externally?).
The "Join the Club" meme started here (if anyone still remembers THAT).
This blog consists of mostly Klaine, Glee, Darren Criss, and Chris Colfer. I also love Harry Potter and just got into Sherlock. You may also find the occasional Rocky Horror, musicals, or anything else that strikes my fancy :) (Tim Curry in a corset indeed strikes my fancy).
More specifics, if you're interested, are in my "About Me" page, linked above. If you wanna stalk me, my life tag is "becca+liveblogs+life" (have fun with that). Thanks for joining me! Shoot me a message whenever about whatever, and I promise to respond!
Latest Tweets